A modular identity system made with people, for people, by people, driven by ethnographic research, to spread awareness about Property Tax Exemption in Detroit.

Co-created with Sarah Cremering, Yasmin Ali, Josh-Krauth Harding, Will Callis, Erica Heathcote, Matt Nielsen & Tracee Hartley.



︎︎︎Background
Quicken Loans Community Fund approached us with a question, how can we spread awareness about Detroit's Property Tax Exemption (PTE) program?
︎︎︎Approach
Before trying to create a system to address the question, we delved into the process ourselves to understand the nuances and complexities surrounding it, so we could then articulate it for Detroit homeowners.
︎︎︎Research & Fieldwork

I. User Flow
As someone who is passionate about understanding complex problems and breaking them down into digestable chunks -- I suggested we understand the user flow of the Property Tax Exemption Process. Together with my teammate Sarah, we were able to organize the whole cycle into 7 different steps.



II. Call Center & Black Caucus
We volunteered at the Call Center as informants for Neighbor To Neighbor, which gave us an overview of what knowledge or questions residents have about PTE, as well as their feelings towards it. We also visited the Detroit Black Caucus, and explored how Neighbor To Neighbor helps Detroiters fill out PTE forms.



III. Resident/Volunteer InterviewsSpeaking to residents who had been through the PTE process were pivotal in indentifying gaps in the process. Volunteers walked us through their process to inform people by knocking on their homes and the barriers they faced — such has posters flying away and broken porches — things that we couldn't have guessed on our own.




IV. Persona Development & Identifying Strategic Touchpoints We developed personas based on our research around Detroit's demographics, people interviews, focusing on situations and people that may benefit from the exemption. These personas helped us identify touchpoints, that were


︎︎︎Communication Strategy

For Awareness (Big & Small): From the touchpoints identified from our Personas, we were able to focus on developing assets strategically, keeping costs in consideration, and reducing redundancies.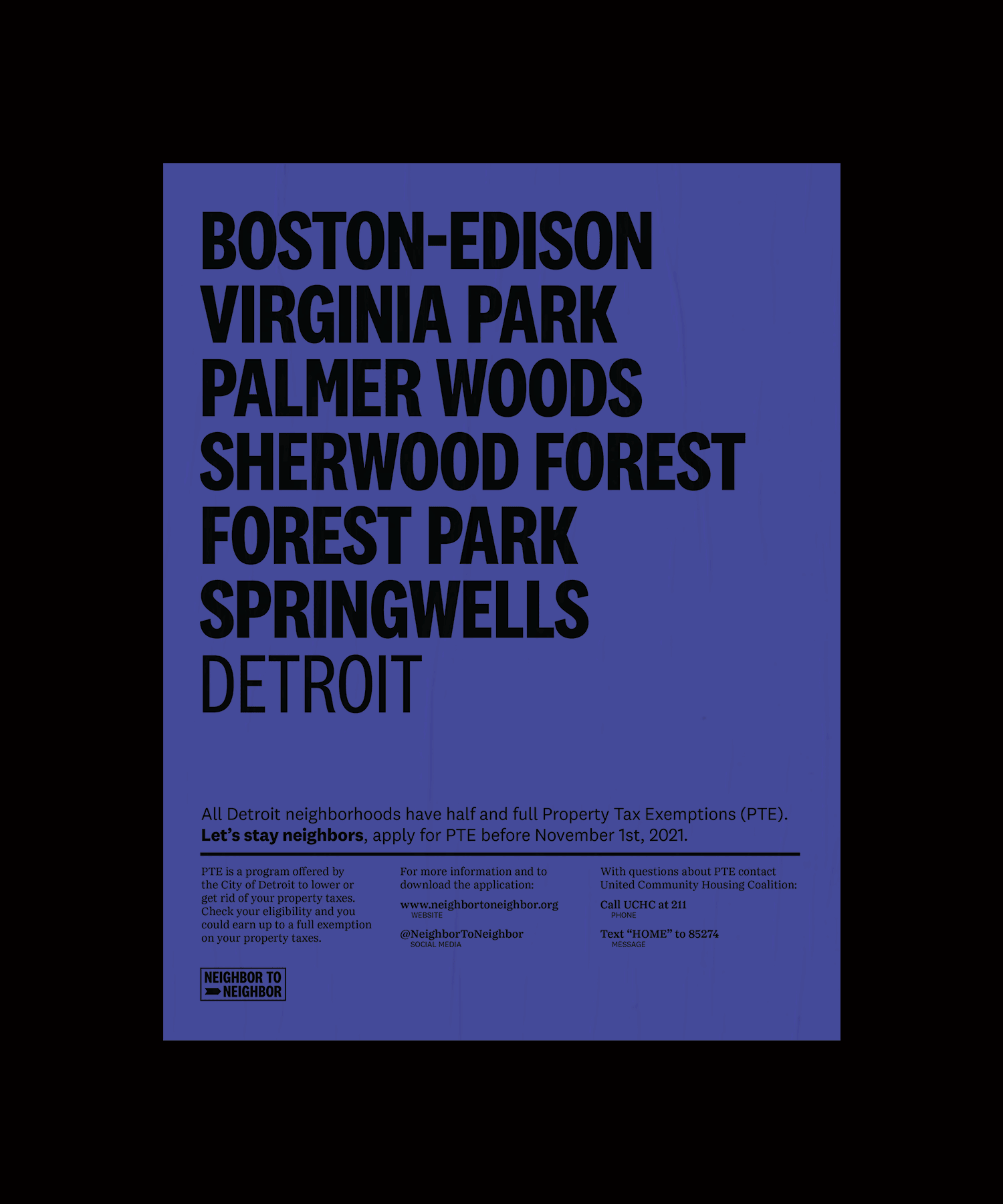 For Detroit Homeowners & Residents: We developed a Do-It-Yourself Kit for Detroiters to fill out the Property Tax Exemption Applications from the comfort of their homes to empower them. We also created a guided version of the PTW form, which would simplify an otherwise complex document.




We also redesigned the actual PTE Application forms, using better typographic hierarchy to make an intimidating task easier, and more approachable.




For Canvassers: The people who go from door to door, to inform residents about PTE. We made sure we used language that was direct, and kept the multilingual demographic in mind.